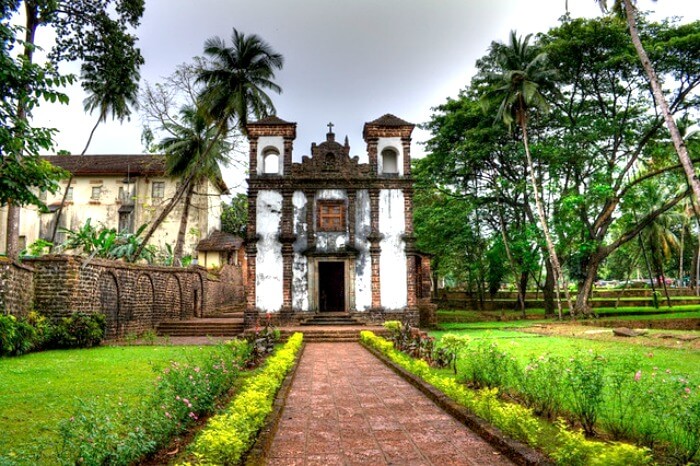 Monsoon is Goa is a wonderful experience. The whole state gets drenched win wonderful rain and the seashore looks more beautiful. So if you wish to travel to Goa in the season of monsoon, then you will experience nature to the fullest degree. In addition to the beautiful beaches of North Goa, old Goa also looks lovely during monsoon. So let us have an idea of some of the most popular tourist destinations in old Goa that you can go to visit during the monsoon months. They are a blend of scenic beauty and traditional heritage.
Beaches around old Goa look splendid during the monsoon. You can have a wonderful bath in the rain or enjoy a short stroll on the beach. Some of the popular beaches that you need to visit are:
Colva Beach: Surrounded by beautiful coconut and palm trees and lovely rocky cliffs, Colva Beach is a great place to enjoy amidst the beautiful natural calm. It provides a perfect setting for a lazy outing or a pleasant vacation.
Palolem Beach: Located in the southern part of Goa in the Canacona District is the beautiful beach of Palolem Beach. A popular tourist attraction in South Goa, the beach is spread amidst a beautiful coast surrounded by hillocks and palm and coconut trees. The beach is an ideal place for different types of water sports.
Mobor Beach: Mobor Beach is a small and serene beach located south of the stretch of Colva and Cavelossim beaches. Bordered by lovely rocky cliffs and coconut and palm trees, the beach is an ideal spot for tourists.
Bambolim Beach: Bambolim Beach is a serene and picturesque beach. Surrounded by idyllic scenery by the sea, this beach is one of the newest destinations for tourists.  The beach is also easily accessible as it close to Panaji and Vasco Da Gama.
Some of the other major attractions in Old Goa are the churches. They are fine examples of traditional heritage. The Basilica of Bom Jesus is an UNESCO World Heritage site and fine example of Portuguese architecture. Goa is a beautiful place with a lot of beautiful accommodation options to avail here. So, you can easy book your stay nearby these attractions.
You can see the mortal remains of St. Francis Xavier here.  Some of the other churches that you can visit are Saint Anne's Church, Church of Saint Augustine, Church of St. Francis of Assisi, Chapel of Saint Catherine, Church of Saint Cajetao, Se Cathedral, and Church of Lady of Rosary, Church of Our Lady of Mount, Church of Saint John of God and Royal Chapel of St. Anthony.